Putnam Handyman Services is a convenient, one-stop solution for big and small interior home projects. Leaky window repairs. Damaged drywall repairs. Furniture assembly. Bathroom grab bars. Door jam adjustments. Changing locks. Hanging paintings. You get the idea, just about anything that needs a handyman!
Fix it Today!
Interior  | Indoor handyman Services
Indoor Handyman Services You Can Trust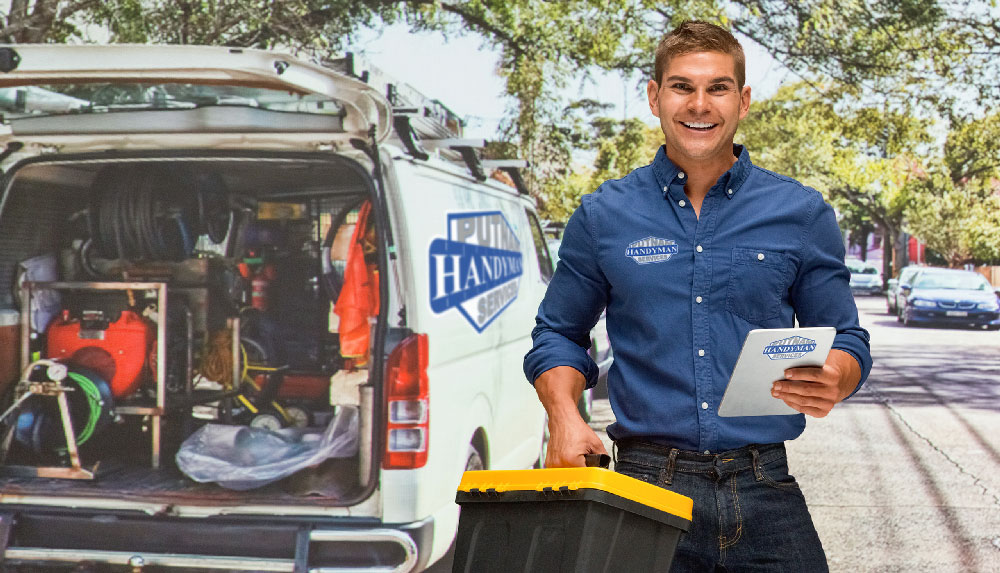 In this fast-paced world we live in, finding the time to complete those essential maintenance tasks, repairs, and refurbishments around the home can be incredibly challenging. At Putnam Handyman Services, our goal is to help take the stress and worry away from homeowners, which is why we offer a complete range of indoor handyman services.
Our fully certified team is able to help with a wide array of tasks around the home. From assembling furniture and standard maintenance tasks to painting and decorating and minor DIY tasks, Putnam Handyman Services is here to help you.
What are the Benefits of using Indoor Handyman Services?
Having a handyman around to help you with those maintenance and upgrades in your home provides a wide range of benefits. Here at Putnam Handyman Services, our highly experienced and certified team strives to give you the very best service possible.
We pride ourselves on our versatility, and we can help with any task you might need. Whether it is painting your interior, helping to install shelving, carrying out general maintenance tasks, or even building a new room in your basement, we have the knowledge to help you. Not only do we offer a thorough range of services, but we also guarantee the most efficient process possible. No matter the job at hand, we promise to carry it out in a timely manner, causing you the minimal amount of disruption.
Indoor handyman services also give you complete access to years of experience and knowledge. Our team has seen it all, which means we can draw upon this information to ensure you are able to enjoy a comprehensive approach. Our knowledge also ensures you can have complete peace of mind that the tasks are being carried out to the highest standards possible. We focus on reliability, letting you say goodbye to disastrous DIY mishaps.
Of course, one of the most significant benefits of using an indoor handyman service is having an all-in-one solution. Hiring multiple tradesmen to complete different tasks around the home can be an incredibly time-consuming process, from finding the right partners to arranging their visits. Having to hire various different companies is also a very costly process, so using an indoor handyman will help you to save money and prove to be a more cost-effective solution.
Why utilize Putnam Handyman Services
If you are looking for indoor handyman services, then Putnam Handyman Services is here to help you. Handyman services are our passion, and we strive to go above and beyond our customers' expectations.
With years of experience working with homeowners across New York and Connecticut, acting as your one-stop shop for home improvements, maintenance, and repairs. We know how important your time is, which is why we can provide a full suite of indoor handyman services, completing each task to the highest quality in the quickest time, ensuring you face minimal disruption to your life.
We pride ourselves on our customer service, and our mission is to become a trusted partner for your needs, building a relationship that can last a lifetime. Our expert team is fully trained, licensed, and insured, giving you complete peace of mind that the works are being undertaken to the highest standards possible. We can also share our wealth of knowledge with you, helping you to find the right materials, methods, and solutions for your home.
Want to find out how our indoor handyman services can help you? Then get in touch with Putnam Handyman Services today!
I've been using Putnam Handyman for many years and have come to rely on their professionalism and skill. Glenn always responds quickly and assigns the right people for the jobs I need done. Not only have they had the skills for the work required but they've been smart troubleshooters. And always courteous, patient and on time. Plus the fee structure is straightforward, no surprises
— Helen Evers